Key Features
Any adult having sound mind can open this account in his/her name singly or jointly with others. Any proprietorship/partnership firm, limited company (private/public), educational institution, club, association, socio-economic organization can also open this account.
Account opening balance is TK. 5,000 only, which is treated as minimum balance of the account.
Provisional Rate of Profit: 3.00%.
For Product Query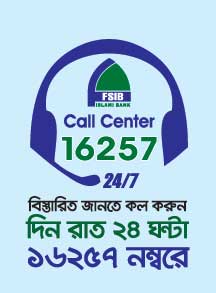 | আকর্ষনীয় সঞ্চয়ী হিসাব সমূহ | সম্ভাব্য মুনাফার হার |
| --- | --- |
| অংকুর (স্কুলের ছাত্র/ছাত্রীদের জন্য) | ৫% |
| প্রজন্ম (কলেজ/ বিশ্ববিদ্যালয়ের ছাত্র/ছাত্রীদের জন্য) | ৫% |
| মুদারাবা সঞ্চয়ী হিসাব | ৩.৫% |
| মুদারাবা এস এন ডি | ৩% |
হিসাব খোলার জন্য যা প্রয়োজনঃ
১. গ্রাহকের ০২ (দুই) কপি পাসপোর্ট সাইজের ছবি।
২. নমিনীর ০১ (এক) কপি পাসপোর্ট সাইজের ছবি।
৩. গ্রাহক ও নমিনী উভয়ের স্মার্ট কার্ড/জাতীয় পরিচয়পত্র/পাসপোর্ট/ড্রাইভিং লাইসেন্সের ফটোকপি।
৪. হাল নাগাদ ট্রেড লাইসেন্সের ফটোকপি এবং প্রোপ্রাইটরশীপ সীল (ব্যবসা প্রতিষ্ঠানের নামে হিসাব খুললে)।